LI.FI and Wido are partnering to build custom cross-chain experiences for teams interested in improving the crypto user experience!
Gm Rollup Nation:
With more caution around centralized exchanges, even more emphasis is put onto DeFi to perform at a level prime for mass adoption. Its a shame to see CEX users sell off altcoins when there are viable custody options on-chain.
The UX simply has not been ready… until now.
Li Fi, our newest channel sponsor, is up to something big as a result of the latest partnership with Wido.
Get ready for UX to 10x. Check out the full article for details on how this partnership will bring efficient liquidity to the masses.
Stay based,
Robbie
💬 Revolutionizing the Cross-Chain Crypto User Journey w/ LI.FI and Wido
Wido specializes in same-chain zaps and has worked with DeFi OGs to improve the user journey. Yearn.Fi utilizes Wido on its front end. So does Harvest, Mozaic, and Pickle Finance. With Wido's API, crypto websites can let users deposit any token into any contract in one click – without worrying about swapping or getting LP tokens.
LI.FI is cross-chain infrastructure for dApps, wallets, and TradFi businesses. MetaMask and DeFi Saver's bridge interfaces are built on top of LI.FI's API. So are BlockWallet, Pangolin, and StakeDAO's frontends. With LI.FI's API, crypto websites can let users move any token across chains in one click – without relying on a single bridge or DEX. 
Combined, the two projects source, route, and deposit tokens anywhere in DeFi:
5 DEX aggregators

15 chains

20 bridges

25 DEXs

145 contracts
Together, the two teams are excited to FINALLY upgrade the crypto user journey. Universal token support. Abstracted user experiences. Minimal dev support. We think LI.FI x Wido unlocks a new paradigm for crypto applications.
Buildoor's Paradise
A few use cases that come to mind:
Wallets building Omni Savings Accounts:

Users depositing into safe yield (Yearn Vaults or stETH) from any chain/token combination. 

Ex: User XYZ recently received 2,000 OP in an airdrop and wants to convert it to a safer form of value. Via LI.FI and Wido, Wallet XYZ can build a zap that swaps OP into WETH, bridges WETH to Ethereum, then stakes into Lido contracts… in one click. 

Dapps building Token-Based Website Experiences:

Users interact with the same dApp on various chains in a single interface. 

Ex: Instead of sorting by "chain", dApps could sort by "token" – thereby, for example, showing USDC yields across chains. From there, via LI.FI and Wido, dApps can build zaps to let users zap into any form of yield from any chain. 

Cross-Chain Yield Farming Automation:

Teams building automated strategies that can touch yield on any chain with any token. 

Ex: LI.FI lets teams move any token to any chain. Wido lets teams deposit any token into any contract. Both of us offer an API, meaning these movements can be automated – allowing for someone, anyone to build xchain yield farming strategies that automatically rotate depending on yield opportunities on different chains. 
As seen below, what used to take twenty clicks, five websites, and tons of manual research…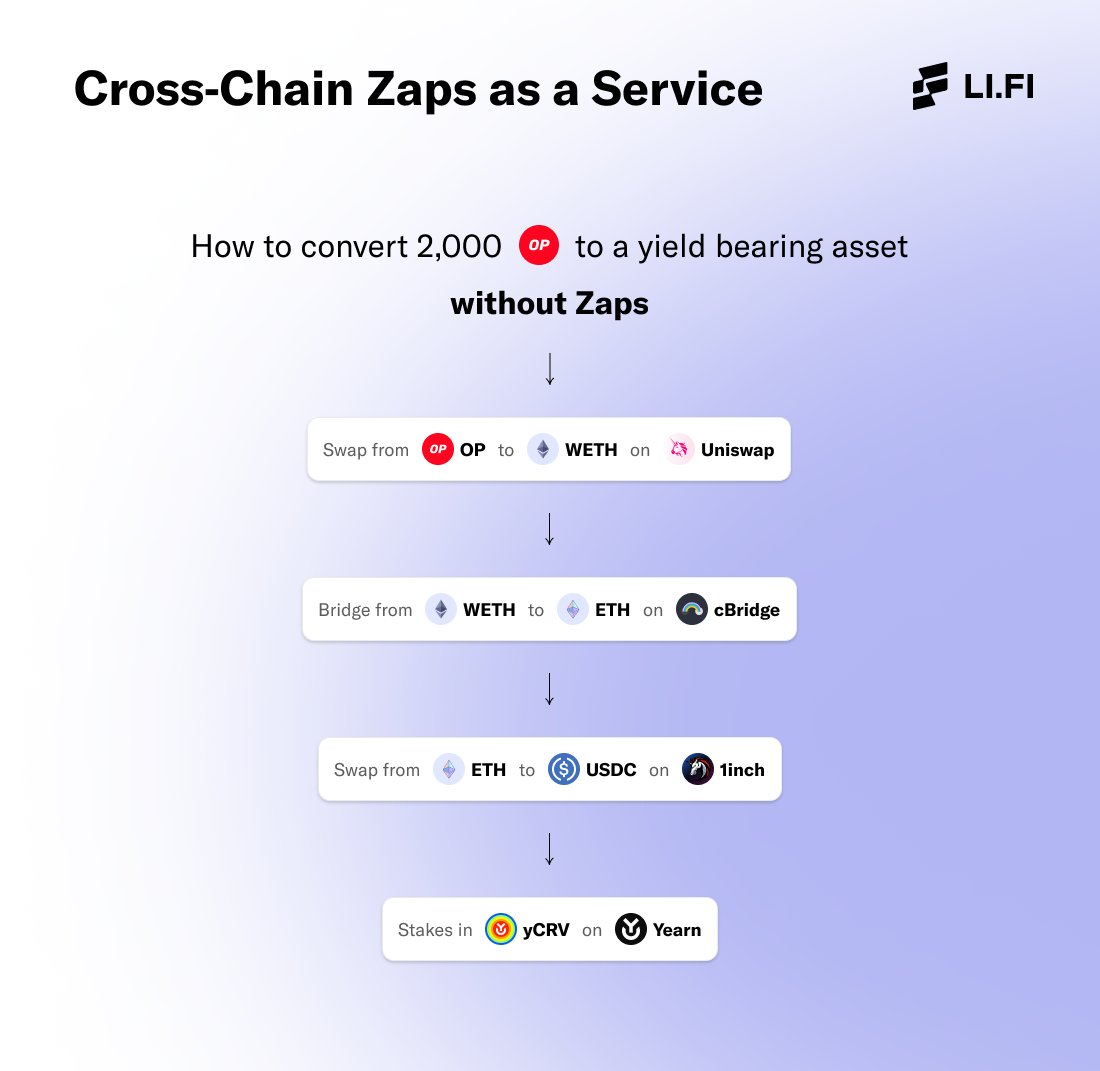 …Is now available to our DeFi power users as a one-click experience!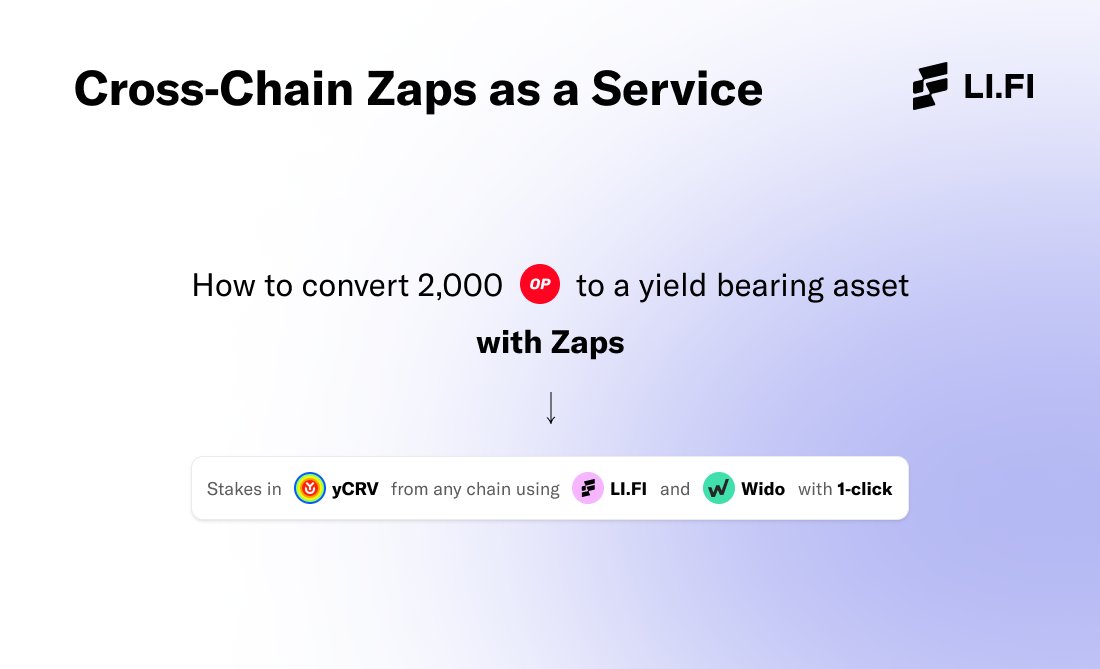 Conclusion
Imagine building a crypto application and not having to think about different chains, gas tokens, bridges, swaps, or deposit support. Imagine a single API letting developers source liquidity from all of DeFi. 
Imagine dApps, wallets, and websites building experiences that didn't require users to bridge, swap, or deposit – or even know what chain they were interacting with. 
Now stop imagining!
Because sometimes dreams do become reality… and this is exactly what LI.FI and Wido are bringing to the crypto industry. The bridge? Gone. The DEX? Gone. Switching chains? Gone. Depositing? Gone. 
One click, from this to that. 
An experience ready for 1 billion users. 
And all you, dear developers, need to do is this: start building on top of us! Interested in cross-chain zaps as a service? Fill out this short Tally form and the team will be in touch quickly: